One-hundred-thirty scholarships were awarded to students from Alcona, Alpena, Montmorency and Presque Isle Counties on Thursday, June 16 in Alpena at the 21st Annual Scholarship Recognition Luncheon hosted by the Community Foundation for Northeast Michigan (CFNEM). Sixty unique scholarship funds established by generous members of communities throughout the four-county area in northeast Michigan made these scholarships possible. (See complete list of 2016 scholarships and recipients,)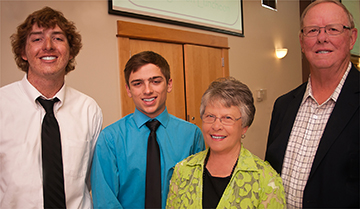 "We are so fortunate to have such forward-thinking individuals and families in northeast Michigan who want to make sure future generations of students can pursue a college education or advanced training now and forever," said Barbara Frantz, CFNEM Executive Director.
"Each year the number and amount of scholarships and student awardees increases as a result of those who deeply care about their local community and create opportunities for our youth to compete and thrive in a complex and challenging world," added Frantz. In 2016, once all scholarships are designated, approximately $400,000 will be awarded through the Community Foundation on behalf of donors in northeast Michigan.
"The Scholarship Review Committee is continually amazed and impressed with the caliber of students graduating from area high schools," said Julie Wiesen, CFNEM Scholarship Program Director. "These students fully appreciate the importance of staying focused on their studies, while still making time to volunteer, pursue extracurricular interests, and/or work to help out at home or save for college.," Wiesen added.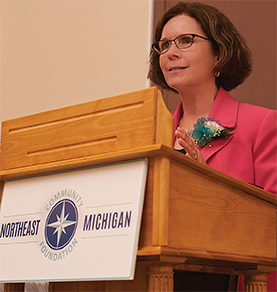 Keynoting this year's scholarship awards ceremony was Alpena High School 2014 graduate Hannah MacDonald. MacDonald is a recipient of the Carl and Helen Basel MSU Scholarship (2014, 2015, 2016), and the Jesse Besser Scholarship (2016, 2017). She just completed her sophomore year as an honors student at Michigan State University where she was encouraged to apply for and received a National Oceans and Atmospheric Administration (NOAA) Ernest F. Hollings Undergraduate Scholarship as well.
"Hannah is majoring in environmental geosciences in MSU's College of Natural Science. She is a great example of a student who has wisely complemented her college major with volunteering and internships that reinforce her career interest," said Frantz.
"She has kept her eyes wide open, taking advantage of opportunities in her hometown, as well on campus to not only give back by volunteering, but volunteering in areas that provide her great learning and work experience. In 2014, she was honored as the "Volunteer of the Year" for the Thunder Bay National Marine Sanctuary and founded Plastics FLOAT, with the FLOAT standing for "For the Love of Alpena Today," noted Frantz.
During MacDonald's speech, she encouraged students to use their scholarship to help discover their passion: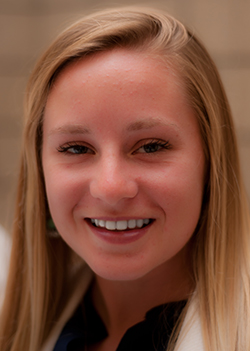 "This community has chosen to support us because we have shown promise of intelligence, creativity, focus, involvement and hard work. Although receiving the funding may seem to be the end of the scholarship process, it is only the beginning of living up to one of our new titles as a "scholar." We were not given the funding just to help out with tuition, we were given the funding so that we could build upon the scholarship to discover a passion, make ourselves more knowledgeable and reach our full potential. " (Read Hannah MacDonald's keynote address here.)
One of the unique aspects of the CFNEM scholarship program is that many of its scholarships are not just determined by academic achievement. Each scholarship reflects the intentions of the donor, and in some cases, that means the emphasis is placed on student interests such as farming, a trade such as welding or plumbing, the arts, or healthcare. All graduating seniors are encouraged to apply for scholarships, regardless of whether they plan to attend a trade certification program, community college or a four-year university.
The Community Foundation urges all parents and teachers to encourage and support their students to start planning early for college or training opportunities well before they graduate from high school. Dual Enrollment, Advanced Placement and Early-College programs are great ways for students to gain real university-level learning experiences, as well as transferable college credits that can help reduce the high price tag of a degree or certificate.
The next online-application process for the Community Foundation for Northeast Michigan will be open in early 2017. Individuals interested in setting up a scholarship fund are encouraged to call or stop by the Community Foundation headquarters at 100 N. Ripley Street, Ste. F in Alpena or call (989)354-6881.